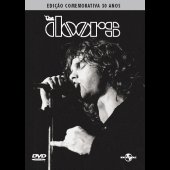 "The Doors - 30 Years Commemorative Edition" (1999 - 185m)
SINOPSE
THE DOORS: LIVE AT THE HOLLYWOOD BOWL
Filmado durante o fim de semana do 4 de Julho, 1968, The Doors tocaram as suas músicas mais aclamadas pela crítica perante uma sala completamente lotada
Músicas: When The Music's Over, Alabama Song, (Whiskey Bar)*, Back Door Man**, 5 to 1, Moonlight Drive, Horse Latitudes, From: The Celebration Of The Lizard (A Little Game, The Hill Dwellers), Spanish Caravan, The Unknown Soldier, Light My Fire (Extended Version), The End.
Director: Ray Manzarek. Producer: Rick Schmidlin
Sound Director: Paul A. Rothchild. Director of Photography: Paul Ferrara
Editor: Richard Ross. Co-Producer: John Densmore
COLOUR / 1 HR. 3 MINS.
*©1928 Universal Edition (renewal)
** Words & Music: Willie Dixon. ©1961
Hoochie Coochie/Bug Music. ©1987 The
Doors Video Company.All Rights Reserved.
Selected tracks available on Elektra/Asylum
music cassettes and albums.


THE DOORS: DANCE ON FIRE
Uma completa colecção de vídeo, ao vivo, de concertos e actuações televisivas, clips promocionais e imagens raras de bastidores.
Músicas: Break On Through, People Are Strange, Light My Fire,Wild Child, L.A.Woman, The Unknown Soldier, Roadhouse Blues, Texas Radio and the Big Beat / Love Me Two Times, Touch Me, Horse Latitudes / Moonlight Drive, The End, Crystal Ship, Adagio, Riders on the Storm.
Executive Producer: George Paige. Creative Director: Ray Manzarek
Concept by The Doors: John Densmore, Robby Krieger, Ray Manzarek
Associate Producer: Linda Weiss. Sound Design: Paul A. Rothciild
COLOUR WITH B&W SEGMENTS
/ 1 HR. 15 MINS
©1985 Doors Music Company.
All Rights Reserved.


THE DOORS: THE SOFT PARADE A RETROSPECTIVE
Este histórico vídeo de música centra-se na última presença televisiva dos The Doors, transmitida no PBS em 1969.
Músicas: The Changeling,Wishful Sinful, Wild Child, Build Me A Woman, The Unknown Soldier, The Soft Parade, Hello I Love You.
Directed by: Ray Manzarek
Producer: Rick Schmidlin. Executive Producer: Danny Sugerman
Editor: Philip Terrence. Cameraman: Paul Ferrara
A Doors Video Company and Cimarron/Bacon/O'Brien
Production
COLOUR / 47 MINUTES APPROX. © 1991 MCA Home Video, Inc.All Rights Reserved.

VIDEO
Standard 1.33:1 [4:3]


AUDIO
Inglês Dolby Digital 2.0
Inglês 2.0 PCM


LEGENDAS
Francês
Alemão
Espanhol
Italiano


OPÇÕES ESPECIAIS
. Break on Through (Isle of Wight Track)
. The Ghost Song


DISCOS/LADOS
1 disco de 1 lado


ESTÚDIO
Universal Music


DISTRIBUIÇÃO
Universal Pictures Portugal, Lda.