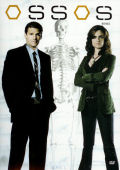 "Bones" (2005/06 - 946m)
SINOPSE
"É uma sexy C.S.I.,
a melhor série dramática da temporada"
-John Leonard,
New York Magazine
David Boreanaz (Angel, Buffy Caçadora de Vampiros) interpreta o agente do FBI Seeley Booth, que se junta à antropologista forense Dr.ª Temperance "Bones" Brennan (Emily Deschanel) e à sua equipa de cientistas, para solucionarem os mais bizarros e complexos crimes, recorrendo ao instinto e às mais avançadas tecnologias de investigação criminal. Inspirado nas aventuras reais da escritora e antropologista forense Kathy Reichs, "Ossos" é uma emocionante série recheada de tensão romântica e humor negro.
Episódios
01. Pilot
02. The Man in the S.U.V.
03. A Boy in the Tree
04. The Man in the Bear
05. A Boy In a Bush
06. The Man in the Wall
07. A Man on Death Row
08. The Girl in the Fridge
09. The Man in the Fallout Shelter
10. The Woman at the Airport
11. The Woman in the Car
12. The Superhero in the Alley
13. The Woman in the Garden
14. The Man on the Fairway
15. Two Bodies in the Lab
16. The Woman in the Tunnel
17. The Skull in the Desert
18. The Man with the Bone
19. The Man in the Morgue
20. The Graft in the Girl
21. The Soldier on the Grave
22. The Woman in Limbo

CRIADO POR
Hart Hanson

INTÉRPRETES
Emily Deschanel, David Boreanaz, Michaela Conlin, Eric Millegan, T.J. Thyne, Jonathan Adams, Tamara Taylor.
VIDEO
Widescreen 1.78:1 anamórfico


AUDIO
Inglês Dolby Digital 5.1
Castelhano Dolby Digital 5.1


LEGENDAS
Português
Inglês
Castelhano
Grego


OPÇÕES ESPECIAIS
. Comentário Áudio a Episódios Seleccionados
. Featurettes "Squints", "The Real Definition" e "Bones - Inspired By The Life Of Forensic Anthropologist And Author Kathy Reichs"
. Galeria de Imagens


DISCOS/LADOS
6 discos de 1 lado


ESTÚDIO(S)
20th Century Fox Television
20th Century Fox


DISTRIBUIÇÃO
Castello Lopes Multimedia
Play Entertainment


SITE OFICIAL
fox.com/bones