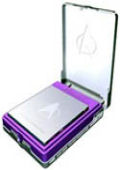 "Star Trek: The Next Generation"
(1987/88 - 1140m)
SINOPSE
Episode titles:
Encounter at Farpoint, Part I
Encounter at Farpoint, Part II
The Naked Now
Code of Honor
The Last Outpost
Where No One Has Gone Before
Lonely Among Us
Justice
The Battle
Hide and Q
Haven
The Big Goodbye
DataLore
Angel One
11001001
Too Short a Season
When The Bough Breaks
Home Soil
Coming of age
Heart of Glory
The Arsenal of Freedom
Symbiosis
Skin of Evil
We'll Always Have Paris
Conspiracy
The Neutral Zone
Special Features: Disc 7
The Beginning (18 mins): focusing on challenges of creating a new series and keeping to Gene Roddenberry's vision. Includes interviews with Roddenberry, Patrick Stewart, Robert Justman, Rick Berman, Jonathan Frakes, Marina Sirtis, Denise Crosby and other cast members.

Selected Crew Analysis (15 mins): first season cast members talk about their roles, their acting background and the Star Trek legacy. Also features comparison between launch of the series in 1987 and comments from the cast seven years later (1994), using archive interviews and b-roll material.

The Making of a Legend (15 mins): features commentary from first season production staff members: Michael Westmore (Make-up), Herman Zimmerman (Production Designer), Mike Okuda (Scenic Artist), Richard Stembach (Scenic Artist), Dan Curry (Visual Effects), Peter Lauritson (Co-Producer), Rick Berman and others.

Memorable Missions (17 mins): cast and crew discussions of specific episodes.

Collectable 16-page book featuring essential episode information and a panoramic montage of the entire crew.
CRIADO POR
Gene Roddenberry
INTÉRPRETES
Patrick Stewart, Jonathan Frakes, LeVar Burton, Denise Crosby, Michael Dorn, Gates McFadden, Marina Sirtis, Brent Spiner, Wil Wheaton.
VIDEO
Standard 1.33:1 [4:3]


AUDIO
Inglês Dolby Digital 5.1
Francês Mono
Alemão Mono
Italiano Mono
Espanhol Mono


LEGENDAS
Inglês
Dinamarquês
Holandês
Francês
Alemão
Italiano
Norueguês
Espanhol
Sueco
Inglês para Deficientes Auditivos


OPÇÕES ESPECIAIS
. Menus Interactivos
. Índice das Cenas
. O Começo
. Análise Seleccionada da Tripulação
. A Criação de Uma Lenda
. Missões Memoráveis


DISCOS/LADOS
7 discos de 1 lado


ESTÚDIO(S)
Paramount Television
Paramount Pictures


DISTRIBUIÇÃO
Lusomundo Audiovisuais, SA


SITE OFICIAL
www.startrek.com