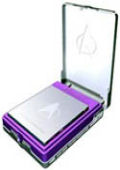 "Star Trek: The Next Generation"
(1988/89 - 957m)
SINOPSE
Episode titles:
The Child
Where Silence Has Lease
Elementary, Dear Data
The Outrageous Okona
Loud as a Whisper
The Schizoid Man
Unnatural Selection
A Matter of Honor
The Measure of a Man
The Dauphin
Contagion
The Royale
Time Squared
The Icarus Factor
Pen Pals
Q Who?
Samaritan Snare
Up The Long Ladder
Manhunt
The Emissary
Peak Performance
Shades of Gray
Special Features: Disc 6
Mission Overview. Year Two
Cast and crew discussions of the major changes in Season Two.
Includes interviews with Gene Roddenberry

Selected Crew Analysis. Year Two
An in-depth look at the growth of continuing characters, plus a look at new crew members.
Interviews with Patrick Stewart, Levar Burton, Jonathan Frakes, Marina Sirtis and Diana Muldaur.

Departmental Briefing. Year Two: Production
Behind-the-scenes look at key episodes, including interviews with production staff.
background on special effects, writing, costumes, props and music.

Departmental Briefing Year Two: Memorable Missions
Second season episode discussions with production crew, including Rick Berman.
Highlights specific episodes and guest stars.

Inside Starfleet Archives
A guided tour with Penny Juday around Paramount's warehouses stuffed full of Star Trek props and memorabilia.
CRIADO POR
Gene Roddenberry
INTÉRPRETES
Patrick Stewart, Jonathan Frakes, LeVar Burton, Denise Crosby, Michael Dorn, Gates McFadden, Marina Sirtis, Brent Spiner, Wil Wheaton.
VIDEO
Standard 1.33:1 [4:3]


AUDIO
Inglês Dolby Digital 5.1
Francês Mono
Alemão Mono
Italiano Mono
Espanhol Mono


LEGENDAS
Inglês
Dinamarquês
Holandês
Francês
Alemão
Italiano
Norueguês
Espanhol
Sueco
Inglês para Deficientes Auditivos


OPÇÕES ESPECIAIS
. Menus Interactivos
. Índice das Cenas
. A Missão Continua
. Análise Seleccionada da Tripulação
. Produção
. Missões Memoráveis
. Arquivos da Starfleet


DISCOS/LADOS
6 discos de 1 lado


ESTÚDIO(S)
Paramount Television
Paramount Pictures


DISTRIBUIÇÃO
Lusomundo Audiovisuais, SA


SITE OFICIAL
www.startrek.com