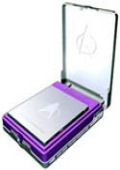 "Star Trek: The Next Generation"
(1989/90 - 1131m)
SINOPSE
Episode titles:
Evolution
The Ensigns Of Command
The Survivors
Who Watches The Watchers?
The Bonding
Booby Trap
The Enemy
The Price
The Vengeance Factor
The Defector
The Hunted
The High Ground
Deja Q
A Matter of Perspective
Yesterday's Enterprise
The Offspring
Sins Of The Father
Allegiance
Captain's Holiday
Tin Man
Hollow Pursuits
The Most Toys
Sarek
Ménage à Troi
Transfigurations
The Best of Both Worlds, Part I
Special Features: Disc 7
Mission Overview. Cast and crew discussions on the major changes to the series in season three, including both old and new cast interviews.

Selected Crew Analysis. Year Three. A look at the growth of the main characters in the series with a closer look at returning crew member, Dr. Beverly Crusher (Gates McFadden).

Departmental Briefing. Year Three. A behind the scenes look at the production of key episodes in series three, including interviews with production crew.

Departmental Briefing. Year Three. Includes specific anecdotes about episodes and events that occurred during the third season.
CRIADO POR
Gene Roddenberry
INTÉRPRETES
Patrick Stewart, Jonathan Frakes, LeVar Burton, Denise Crosby, Michael Dorn, Gates McFadden, Marina Sirtis, Brent Spiner, Wil Wheaton.
VIDEO
Standard 1.33:1 [4:3]


AUDIO
Inglês Dolby Digital 5.1
Francês Mono
Alemão Mono
Italiano Mono
Espanhol Mono


LEGENDAS
Inglês
Dinamarquês
Holandês
Francês
Alemão
Italiano
Norueguês
Espanhol
Sueco
Inglês para Deficientes Auditivos


OPÇÕES ESPECIAIS
. Menus Interactivos
. Índice das Cenas
. A Missão Continua
. Análise Seleccionada da Tripulação
. Produção
. Missões Memoráveis


DISCOS/LADOS
7 discos de 1 lado


ESTÚDIO(S)
Paramount Television
Paramount Pictures


DISTRIBUIÇÃO
Lusomundo Audiovisuais, SA


SITE OFICIAL
www.startrek.com