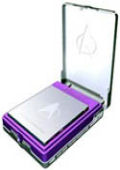 "Star Trek: The Next Generation"
(1992/93 - 1131m)
SINOPSE
Episode titles:
Time's Arrow, Part II

Realm of Fear

Man of the People

Relics

Schisms

True-Q

Rascals

A Fistful of Datas

The Quality of Life

Chain of Command, Part I

Chain of Command, Part II

Ship in a Bottle

Aquiel

Face of the Enemy

Tapestry

Birthright, Part I

Birthright, Part II

Starship Mine

Lessons

The Chase

Frame of Mind

Suspicions

Rightful Heir

Second Chances

Timescape

Descent, Part I

Special Features: Disc 7
Mission Overview. Cast and crew discussions on the major changes to the series in season six, including both old and new cast interviews.

Selected Crew Analysis. Year Six. A look at the growth of the main characters in the series.

Departmental Briefing. Year Six. A behind the scenes look at the production of key episodes in series six, including interviews with production crew.

Departmental Briefing. Year Six. Includes specific anecdotes about episodes and events that occurred during the sixth season.
CRIADO POR
Gene Roddenberry
INTÉRPRETES
Patrick Stewart, Jonathan Frakes, LeVar Burton, Denise Crosby, Michael Dorn, Gates McFadden, Marina Sirtis, Brent Spiner, Wil Wheaton.
VIDEO
Standard 1.33:1 [4:3]


AUDIO
Inglês Dolby Digital 5.1
Francês Mono
Alemão Mono
Italiano Mono
Espanhol Mono


LEGENDAS
Inglês
Dinamarquês
Holandês
Francês
Alemão
Italiano
Norueguês
Espanhol
Sueco
Inglês para Deficientes Auditivos


OPÇÕES ESPECIAIS
. Menus Interactivos
. Índice das Cenas
. A Missão Continua
. Novas e Ousadas Direcções
. Produção
. Perfil: Dan Curry
. Perfil Especial da Tripulação: Lt. Commander Data
. Informação Histórica Seleccionada
. Dentros dos Arquivos da Strafleet: Cenários e Adereços
. Trailer de Star Trek: Nemesis
. Trailer da Edição de Coleccionador do Star Trek: Deep Space Nine


DISCOS/LADOS
7 discos de 1 lado


ESTÚDIO(S)
Paramount Television
Paramount Pictures


DISTRIBUIÇÃO
Lusomundo Audiovisuais, SA


SITE OFICIAL
www.startrek.com